Using ICT as a catalyst for rural development and land reform
Posted on:

10 May 2011

By:

dwesaadmin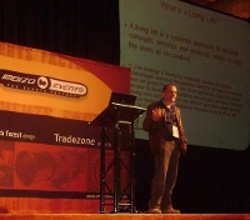 On the 17th of August 2010, Imbizo Events in partnership with the Black IT Forum hosted the prestigious 6th Annual Eastern Cape ICT Summit and Gala dinner. This event was held at the Feather Market Convention Centre in Port Elizabeth, Nelson Mandela Bay. The theme of 2010's summit was entitled "Using ICT as a catalyst for rural development and land reform", and attracted a crowd of about 200 delegates. Sponsors for the event were the Nelson Mandela Bay Municipality, Cisco, Vodacom Business, Dimension Data, Business Connexion, K-log and IT Web.
The keynote address was delivered by the Honourable Noxolo Kiviet, Premier of the Eastern Cape Province. Her main points were on the need for the Eastern Cape government and the Premier's Office to strive harder to use ICTs to bridge the divide between the rural communities and the highly developed urban centres, and further cement the relationship between the state and citizens, especially those living in rural areas. Other keynote speakers for the event were, among others, Mr Mcebisi Jonas, Eastern Cape MEC for the Department of Finance, Economic Development, Tourism and Environmental Affairs and the Honourable Zanoxolo Wayile, Mayor of the Nelson Mandela Bay.
The Eastern Cape ICT Summit is designed as a tool for business development opportunities through matchmaking sessions to discuss topical ICT issues of interest to the public and private sector. As such, a presentation entitled "A novel approach to ICT for rural development: the case of the Siyakhula Living Lab" was delivered by Professor Alfredo Terzoli, describing the Siyakhula Living Lab and Reed House Systems ecosystems. Much praise and attention was received from the attendees and representatives of the Premiers Office, on this innovative project. A promise was made by the Premier to pay a surprise visit to the communities were the initiative is deployed. We gladly await and welcome her visit eDwesa naseNkwalini .
Next year's Eastern Cape ICT Summit is likely to be held in East London.
Enkosi Nelson Mandela Bay!