Siyakhula Living Lab @ the 2nd Annual LLiSA conference
Posted on:

10 May 2011

By:

dwesaadmin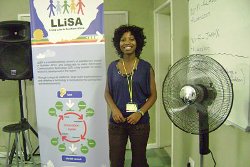 The 2nd Annual Living Lab in Southern Africa (LLiSA) conference was held on the 1st and 2nd March 2011, and was hosted by RLabs at their Bridgetown premises in Capetown. The theme of this year's conference was Sustainability and Evaluation of Living Labs. Approximately 30 people attended the event.
The keynote address at the conference was given by Tuija Hirvikoski, from the Laurea University of Applied Sciences and is also a council member of ENoLL. In addition, RLabs, Siyakhula Living Lab, North West Living Labs and Amsterdam Living Lab presentations were made by Marlon Parker, Sibukele Gumbo, Hendrik Coetzee and Daan Velhausz respectively.

In addition to the presentations made, the attendees had the opportunity to:
• Form two working sessions to discuss the topics Sustainability ideas for LLs and Support from LLiSA to develop tools for evaluation,
• Receive an introduction to Social Media by RLabs,
• Receive a report back on the Living Lab visits done by Deon Manuel in December 2010,
• Discuss mechanisms that could be employed to obtain funding in LLiSA.
The conference proceedings could be followed through various Social Media and can be accessed through various links on www.llisa.net